Waste Paper
All of our waste paper and cardboard collected is taken to a member of the IWPPA (Independent Waste Paper Processors Association). The association on behalf of its members arrange for all recovered paper to be used in the production of new paper at mills located in the UK, European Countries, China and India and that all export sales are shipped in accordance with the Transfrontier Shipment of Waste Regulations.
Secure Destruction
Lowe Brothers can provide various receptacles for collection of Secure Data for example:
Lockable wheeled bins
Re-useable sacks with secure seals
Paper sacks which are sealed and shredded along with the contents
We can provide a certificate for every collection detailing the number of sacks collected and the relevant  seal numbers to assure our clients that their confidential information is safe. This service can be included as part of Integrated system or collected as and when you require.
Video tape, CD and hard drive destruction can also be arranged.
Food Waste
Food waste is collected via hoppers  containing bio degradable bags and are placed in all food preparation areas. These are then transferred into specially designed 240Ltr wheelie bins and picked up from the loading bay or waste area.  The waste is taken to a recycling  facility holding a category 3 licence. This allows them to compost all food waste. The waste is mixed with woodchips, placed into 8 industrial machines which compost at high temperatures for 14 days to kill bacteria. it is then macerated and re-composted until it becomes re-useable.
Glass Recycling
Glass can be recycled in three different  ways dependant on how it is sorted at source.
Mixed glass (Clear, Green and Brown) which is slightly broken is colour sorted, sent to Yorkshire to Adagh glass and made into new glass bottles or jars. This method saves approx 314kgs of CO2 per tonne of glass re-melted including transport.
Mixed glass which is broken into pieces that are too small to be sorted, is exported to the wine growing regions of Europe, melted down and made into green wine bottles. This saves approx 290kgs of CO2 per tonne re-melted.
Glass which is heavily contaminated is passed on to aggregate companies in the UK and ground down as fine as sand, this is then mixed with sand and used in processes such as block paving. Unfortunately this method has a negative impact of 2kgs per tonne; however this figure would dramatically rise if it were to sent landfill.
Fluorescent Tubes
Fluorescent Tube boxes which hold approx 200×6ft Tubes, are placed within the loading bay and collected when full. These are recycled by being crushed and shaken to separate the various components. The clear glass returns to the glass recycling chain, the powder is sent to mercury recovery and reused, the aluminium end caps are sent for smelting. The very small amount that can not be reused (2% ) goes to landfill.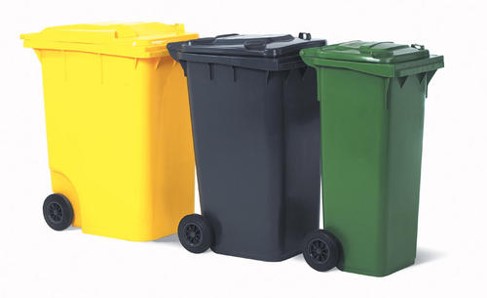 Aluminium Cans
All metals are sent to a scrap metal merchant where items are sorted into the various metals and sent to smelting to be reused.
Plastic Bottles
Plastic  bottles that contained drinks , detergents, shampoo or most other liquids are taken to a MRF (Material Recovery  Facility). It is checked for contamination and sent a short distance to the first company in the UK to reprocess plastics back to food grade PET & HTPE. The bottles and food containers made here  are purchased by M&S for their sandwiches, drinks and lunchtime snacks.
Batteries
Ni-Cad, Lead Acid and UPS batteries should be stored in rigid plastic boxes, these can be collected when full and taken to a recycling facility.